Commercial Locksmith in Sarasota, FL
Could one of the keys to your company go missing? Do you have any basis for believing that the building you own could be the subject of theft? Has it been a couple of years since you did the last update?
We provide Commercial expert locksmiths in Sarasota, FL services that you can rely upon to keep you, your workers, and the property of your business secure.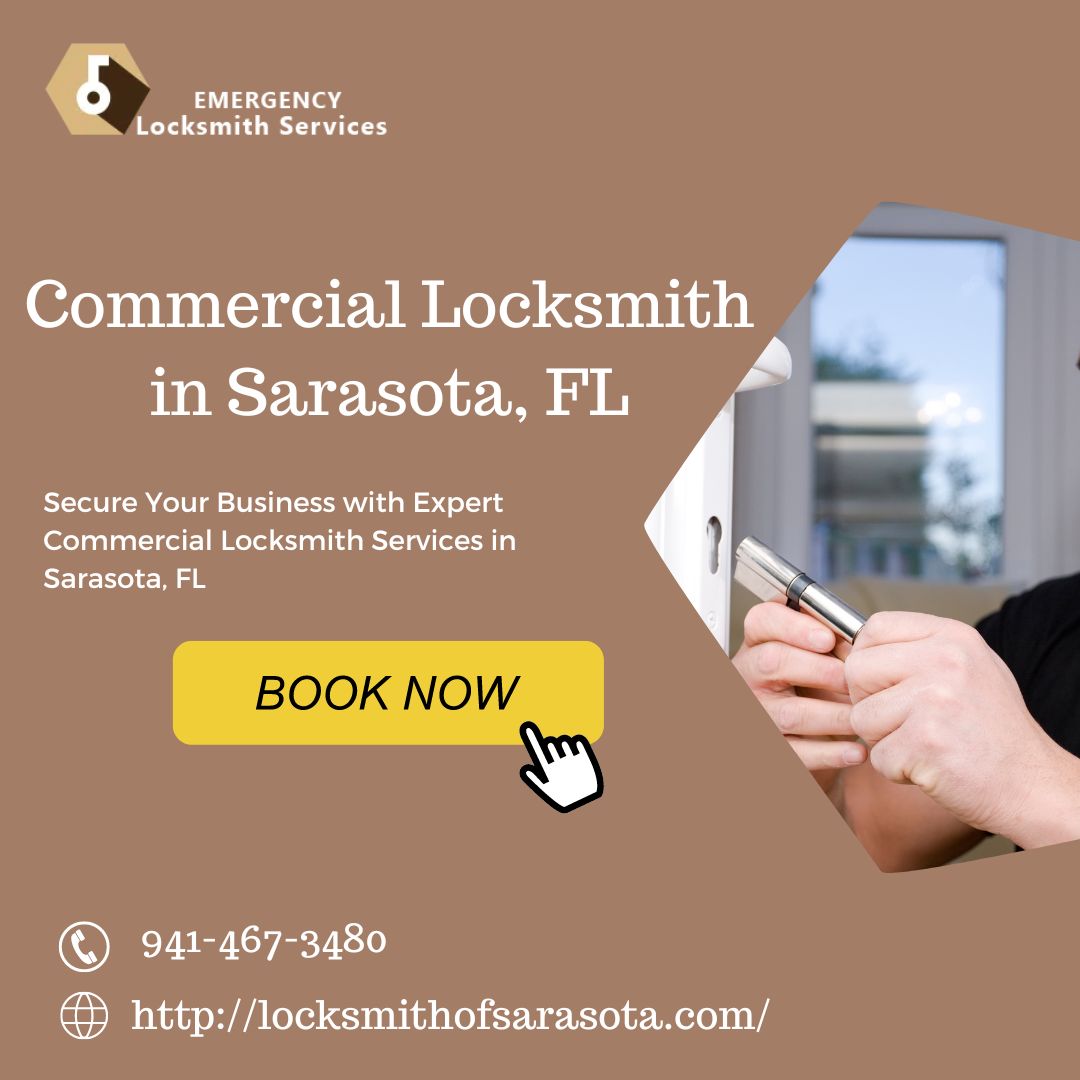 We offer the most reliable and user-friendly Commercial locksmith in Sarasota, FL, and products that will assist you in maintaining the safety and protection of all the properties associated with your business.
After you finish the phone with the Locksmith in Sarasota, we will arrive at your location within 20 minutes. We guarantee to respond to your situation with the utmost urgency regardless of the time of day or weather conditions.
Emergencies can be incredibly distressing, but we're here to help. Twenty-four hours a day, anywhere in Sarasota, FL, you can rely on our dependable, affordable, and effective emergency locksmith services.
Call our Commercial locksmith in Sarasota, FL services in Sarasota, FL at(941) 467-3480 now, and you will realize that we can deal with any commercial lock.
Lock change/repair/upgrade for Commercial locksmith in Sarasota, FL
Commercial locksmiths in Sarasota, FL, are offered by Locksmith of Sarasota. These services are related to locks and keys, including lock changing, lock repair, and lock upgrade. The company will provide you with new locks and install them if you need to update them on your home or business.
We can replace your old locks with brand-new ones or repair them if they are broken or not performing correctly. To further increase your company's safety, we also provide lock improvements, which may include installing deadbolts or keyless entry systems, among other options. In addition, we offer emergency lockout services around the clock, seven days a week.
We are an established locksmith company in Sarasota, Florida, and we possess a lot of professional experience.
Lock re-Keying and Master Key System for Commercial locksmith in Sarasota, FL
Locksmith of Sarasota provides re-keying and master key systems to local companies. Re-keying is modifying a lock so that a new key may unlock it. This is a common practice when a property owner wishes to restrict access to select areas or when a key set is lost or stolen.
Our company can re-key your old locks swiftly and efficiently, supplying you with new ones compatible with your existing ones.
Master key systems are a more sophisticated alternative for properties with many entries. It allows a single key to access many locks while preserving individual keys for each. This benefits companies with several employees or landlords with various rental properties.
Giving you more access control to your property, Locksmith of Sarasota can design and install a master key system to your exact specifications.
The company offers these services and hires skilled locksmiths to carry out the tasks. We ensure the job is completed efficiently and effectively to give your business the highest level of security.
New Lock Installation for Commercial locksmith in Sarasota, FL
New lock installation services are available at Locksmith of Sarasota for local businesses. The company can provide and install new locks for you if you need to change the locks on your property for security reasons or if you are moving into a new office.
We offer a vast selection of locks, including deadbolts, knob locks, lever handle locks, and keyless entry systems.
They can also install high-security locks, such as cylinders resistant to being bumped, to provide further safety for your stuff.
The Locksmith Of Sarasota is highly trained and has extensive expertise in installing various types of locks.
We have the necessary tools and equipment to install the new locks appropriately and securely. In addition, we ensure that the new locks are configured to operate with your old keys or give replacement keys as necessary.
In addition, the company offers the service of adjusting the lock to guarantee proper alignment, smooth functioning, and a snug fit. We also provide guidance on the best lock for your particular needs and budget, allowing you to make an informed decision about the lock you wish to install.
Keyless Entry and Access Control for Commercial locksmith in Sarasota, FL
A keyless entry and access control system is a technology that enables someone to enter a building or restricted area without a physical key. Access is allowed via a code, keycard, or other electronic authorization. This system is typically employed in business and industrial environments, as well as in residential settings such as gated communities and apartment buildings.
Locksmith Of Sarasota is a Commercial locksmith in Sarasota, FL service that specializes in installing and maintaining keyless entry and access control systems. We provide many services and products, such as keyless locks, keycard systems, biometric systems, and remote access systems.
Panic Bar for Commercial locksmith in Sarasota, FL
Panic bars, sometimes called push bars, are external door hardware in business buildings. It helps people escape buildings swiftly in emergencies like fires. Panic bars are horizontal bars across the door that can be pushed down to remove the latch and open the entrance.
Locksmith Of Sarasota in Florida installs and maintains panic bars. Single and double-door panic bars, fire-rated panic bars, keyed panic bars, and rim and surface vertical panic bars fit any door. We can also install ADA-compliant panic bars to make buildings accessible.
File Cabinet Locks for Commercial locksmith in Sarasota, FL
File cabinet locks secure sensitive documents and materials in file cabinets. These locks can be fitted to existing file cabinets or integrated into new ones during manufacturing. They can be key, combination, or electronic locks with access codes.
Locksmith Of Sarasota offers file cabinet locks for any file cabinet. Key, combination, and electronic locks with access codes can be installed. File cabinet locks can be repaired or replaced by us. We can also re-key file cabinet locks to restrict access to cabinet contents.
Safe Lockout for Commercial locksmith in Sarasota, FL
Safe lockout is a regular occurrence when the safe's combination or key is lost or forgotten. We at Locksmith of Sarasota can handle safe lockouts and open the safe without causing any damage. If necessary, we may also repair or replace the locking mechanism. Only a professional locksmith should be entrusted with safe lockout issues since attempting to unlock a safe without the proper training and equipment might cause damage and void the safe's warranty.