Emergency Locksmith in Sarasota, FL
Are you unable to get into your house or place of business and need an Emergency Locksmith in Sarasota, FL? We are happy to inform you that we offer dependable services, with an emphasis on employing locksmith staff that is both competent and qualified.
We have a track record of successfully resolving emergency locksmith situations in the surrounding area.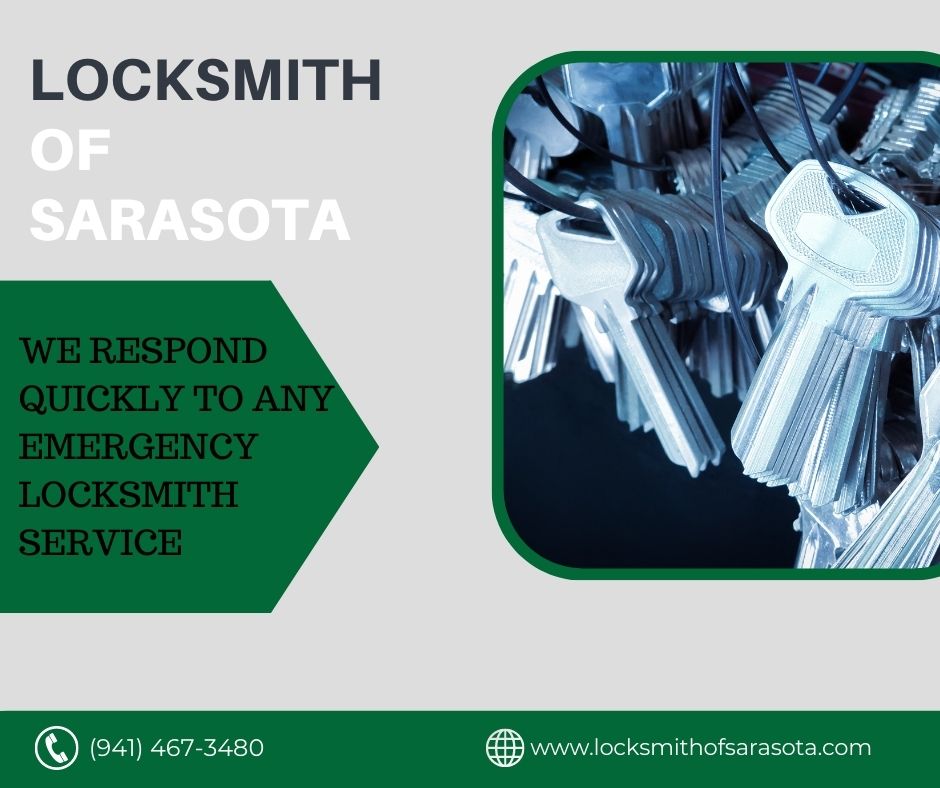 We can get you back into your property, whether your house or your car so that you can go about your day without any problems.
Call Locksmith of Sarasota for rapid, reliable service in emergencies.
We hire 24/7 licensed locksmiths to provide emergency services at a low cost. It's frustrating, but we're here to help. If you're in this circumstance, call us for quick assistance.
For your convenience, Locksmith Of Sarasota offers emergency services 24/7. A licensed technician will arrive with all the necessary instruments in minutes.
Call us for a fast, excellent Emergency Locksmith in Sarasota, FL.
Your lockout situation can be addressed by us right away.
We are happy to assist others, and we take great satisfaction in our work as your Emergency Locksmith in Sarasota, Florida. We can unlock car doors at any hour of the day or night, allowing you to retrieve your keys and continue with your day. If you went out for a jog and returned to find the house locked, we can unlock the doors for you so that you won't be in a bind.
Even professionals who lock their keys in their office at lunch and cannot get back in for the afternoon can count on us to unlock the door for them.
We are happy to assist you through our mobile locksmith service—everything from being locked out of your car to arriving home late at night without your keys.
We're Your Emergency Locksmith in Sarasota, FL, Ready to Assist You!
Our Emergency Locksmith in Sarasota, FL, service is one of our regular locksmith businesses that serve area households, businesses, and drivers. Despite this, it is an essential element because of the significant impact it can have on the safety and security of individuals.
We give our services with ethics and appreciate helping you and getting the job done well. Call our number immediately in the event of an emergency, or give us a call to book any of our skilled locksmith services that will make your life safer.
Commercial Emergency Locksmith in Sarasota, FL
When running a company, especially one that deals with expensive goods and machinery, you need to be mindful of the possible risks of unexpected break-ins. If someone breaks into your commercial warehouse, factory, or office, you will require immediate protection for the valuables that are still in your possession.
You will be able to return home with peace of mind knowing that your system and your locks have been secured by an on-site locksmith who is available around the clock. Additionally, Emergency Locksmith in Sarasota, FL, offers monitored security and alarm systems to protect your high-value property and head off any emergency scenarios that break-ins could precipitate.
At Locksmith Of Sarasota professional locksmith service, we will examine the locking systems you currently use and provide you with the essential guidance you need as you move toward the future.
Residential Emergency Locksmith in Sarasota, FL
When you get home from work very late at night, there are instances when you discover that you need to remember to bring your house keys with you. This can be very frustrating. When you find yourself locked out of your house in the middle of the night, you immediately realize the value of time and how important it is to act quickly.
In a precarious scenario like this one, the only thing you will require is a reaction from an Emergency Locksmith in Sarasota, FL, that is prompt, dependable, and effective.
At Locksmith of Sarasota, we will make the quickest possible trip to your residence, unlock the door, and guarantee that entrance into your property is carried out securely.
Car Emergency Locksmith in Sarasota, FL
When you rush to get to an appointment on time but can't find your car keys, what are your alternatives? Where will you seek assistance, and how will you do so? Because being locked out of a vehicle can happen anytime, Emergency Locksmith in Sarasota, FL, car lockout assistance is one of the most frequently requested locksmith services.
If you find yourself trapped out of your vehicle, you can rely on the aid of the Locksmith of Sarasota, who specializes in emergencies. You can call a locksmith at any hour of the day, and we will answer your call and come to your assistance.
Since we use the most up-to-date, state-of-the-art technology, you can put your trust in Locksmith of Sarasota to manage any Emergency Locksmith in Sarasota, FL. We are an emergency locksmith company serving the Sarasota, Florida, area.
Give us a call for an Emergency Locksmith in Sarasota, FL!
At Locksmith of Sarasota, our primary goal is to provide you with services that are easily accessible at the precise moment when you could benefit the most from them. We will dispatch an expert who can reach you at your exact location in a matter of minutes, no matter where you are waiting—at the front door of your house or in your office—and we will do so regardless of where you are.
You can get in touch with our representatives, and we will be able to immediately answer your call and provide you with the assistance that you require.
We are also happy to say that the quality of service we provide is of the highest caliber, and yet we can keep our prices at a level that is affordable for our clients.
You can count on us to provide you with the best guidance, and our crew is accommodating and incredibly reliable.
If you need emergency locksmith services, you do not need to search any further than Locksmith of Sarasota because we have everything you are looking for right here.
Call (904) 635-4121 to speak with a professional and properly trained locksmith about emergency locksmith service questions, including pricing.