Residential Locksmith in Sarasota, FL
Have you given any attention to improving your family's safety and security at home? It is time to invest in more secure locks and security systems before something undesirable occurs.
Are your door locks sufficiently safe and challenging to pick? Do you keep your valuables in a secure location? Locksmith Of Sarasota, Residential locksmith in Sarasota, FL services are available to assist you in securing your property.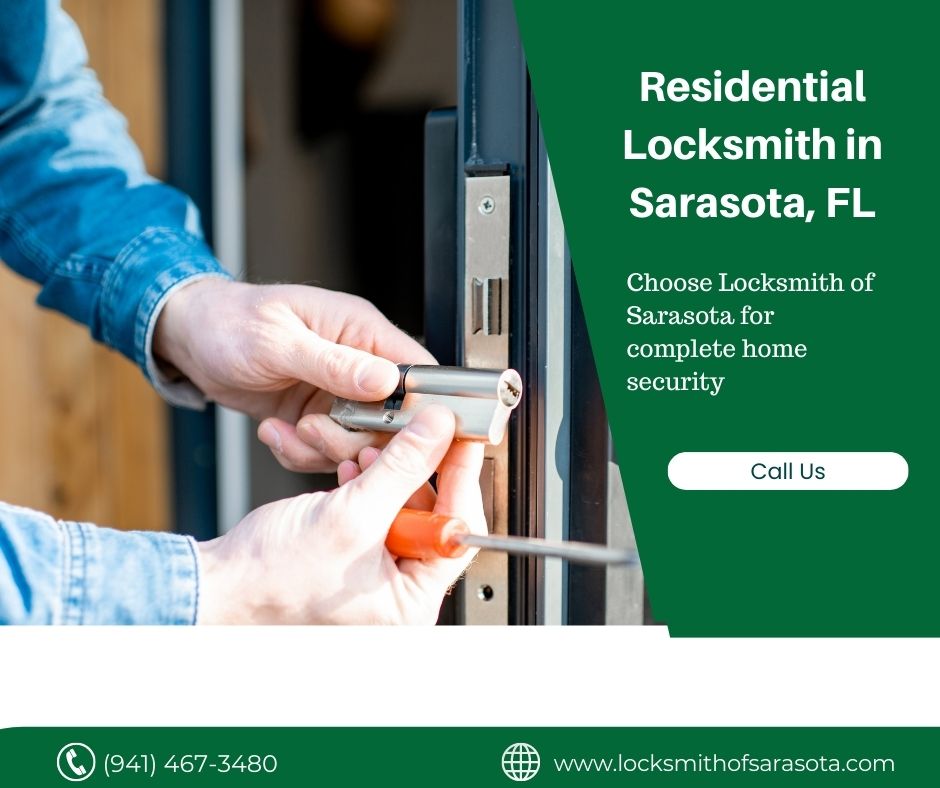 In addition to responding to your emergency needs, such as when you lock yourself out, we strongly recommend installing devices that will increase the security of your house.
Our company offers a vast selection of Residential locksmiths in Sarasota, FL. We can fix locks, doors, safes, and gates, and your locks can be replaced or re-keyed by our certified specialists and technicians.
We want to be your partner in guaranteeing your family's safety with the most innovative and cutting-edge locksmithing products, giving you the best security and peace of mind.
Refrain from taking chances with another locksmithing company. Contact a reputable Residential locksmith in Sarasota, FL, like Locksmith Of Sarasota. Feel free to contact us at (941) 467-3480 immediately.
Residential Lock Change
When moving into a new house, you should always ensure that the locks are changed because someone else may have a copy of the key. This is especially important if the house was recently sold, and it is always best to do so, as doing so will ensure your and your family's safety.
Changing out the locks on your property is one of our specialties, and our highly trained and experienced specialists will ensure that the locks on your property will keep you safe.
Residential Lock repair
You may get affordable lock repair from Locksmith Of Sarasota, which is of the highest possible quality. When it comes to avoiding costly mistakes in the long run, hiring a professional to complete the task for you is your best bet. You may be confident that the locksmiths working for Locksmith Of Sarasota will be able to solve your lock-related issues in a dependable and skilled manner.
Residential Door Installation
Hiring the right people may make or break the house you envisioned, regardless of whether you are building your own home from the ground up or replacing your doors. Installing doors properly requires precision and experience to minimize potential issues such as air leakage.
To guarantee precision indoor fitting and installation, give Locksmith of Sarasota a call.
Residential Lockout
If you find yourself locked out of your home, your first action plan should be to call a Residential locksmith in Sarasota, FL. Please do not attempt to do it independently because you could damage the lock, making it even more challenging to open.
Give us a call at Locksmith Of Sarasota, and we will be there to assist you in entering your home within 15 to 20 minutes after we receive your call. Our team maintains a high level of expertise, is highly professional, and has many years of experience as a locksmith. In addition to that, we have specialized tools for unlocking homes.
Don't hesitate to call us about the lockout scenario you're in.
Residential Rekeying
Do you need to have the locks on your new home re-keyed because you just moved in? Rekeying is one of the many services we at Locksmith of Sarasota would be happy to provide for you. We have an excellent team with a great deal of experience in re-keying locks for residential properties, and we are available around the clock.
Therefore, feel free to give us a call whenever you need the locks on your home re-keyed. Call us at (941) 467-3480
Leading Residential locksmith in Sarasota, FL
Locksmith of Sarasota is a leading residential locksmith company in Sarasota, FL. We have provided the local community with top-notch lockout services, lock repairs, and installation for many years. Our highly skilled and experienced technicians are equipped to handle any residential lock issue, from simple lockouts to high-security lock installations.
We are also available 24/7 for emergency services. Locksmith of Sarasota prides itself on its quick response times, affordable pricing, and excellent customer service. We are dedicated to ensuring the safety and security of our customers' homes.
If you need a reliable and professional residential locksmith in Sarasota, FL, look no further than Locksmith of Sarasota.
Affordable Residential locksmith in Sarasota, FL
Locksmith of Sarasota is a relatively affordable residential locksmith in Sarasota, Florida. We recognize that lock-related issues are often stressful and unanticipated, so we provide affordable pricing on all our services. Whether you're locked out of your home, need a damaged lock fixed, or want to increase your security with a new lock installation, Locksmith of Sarasota can help.
We have a staff of highly competent and experienced experts ready 24 hours a day, seven days a week, for emergency services.
We take great satisfaction in their rapid response times and good customer service. In addition to providing good services, Locksmith of Sarasota offers a range of discounts and special deals to its customers, such as discounts for senior citizens, student discounts, and more.
We are committed to providing the most outstanding possible quality at affordable prices, and our customers believe that all people should have access to dependable and low-cost locksmith services. If you want a residential locksmith in Sarasota, Florida, look no further than Locksmith of Sarasota.
Give Locksmith of Sarasota a call!
You should contact Locksmith of Sarasota if you require residential locksmith services because we use high-quality hardware, and our professional locksmiths are insured and bonded. When you get our customer service agents, you will receive a professional and courteous answer.
We understand that residential lockouts can occur at any moment and most inconvenient times. Still, you should always have the contact information for Locksmith Of Sarasota set in your phone.
The key to having peace of mind and confidence in your home's security is choosing the proper individuals to assist you.
Call us regardless of the day or time, and Locksmith Of Sarasota will be ready to help you.